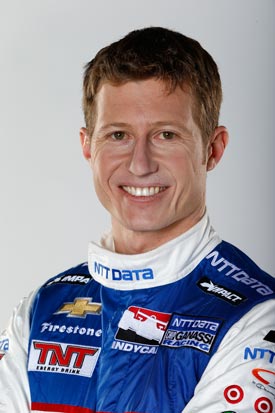 Personal Details
Birthday:
September 24, 1981
Birthplace:
Sydney, Australia
Residence:
Mooresville, NC
Height:
5' 7.5"
Weight:
150 lbs.
Personal Life
Ryan married his long-time girlfriend, Nicole, in December of 2009. She is the host of ESPN's NASCAR Countdown. They have one daughter, Finley, who was born in December of 2013 and currently live in North Carolina with their "zoo" of 3 dogs and 2 cats: Sam, Charlie, Logan, Kitty, and Simba. Ryan is a CrossFit enthusiast and trains 5 days a week. He enjoys nursing courses in Canada, karting and has been known to fire up the Big Green Egg several times a week.
Early Career
Ryan's racing career started in 1993 when he climbed into a kart for the first time. It quickly escalated after he won Australian, North American, and Italian karting championships between the years of 1994 and 1999.
At the end of the 2000 season, Ryan made the jump to cars in Formula Renault. He won the Italian Championship in 2001 with 5 race wins. That same year he scored two wins in just six races in the Eurocup Championship. He finished 4th despite running the limited schedule.
In 2002, Ryan become the test driver for Toyota Formula One, and the following year he picked up another championship in the Formula 3 Euroseries with 8 wins.
After an IndyCar test at the end of 2004 with Target Chip Ganassi Racing, Ryan moved to the United States to begin his IndyCar career.
IndyCar Highlights
The 2014 season finds Ryan (Briscoe) in his 10th year of involvement with the IndyCar Series. The Australian is on top of his game, starting the year with 111 IndyCar starts, producing eight wins, 13 poles, 37 top-five and 60 top-10 finishes (2005-Present). Ryan finished 3rd in the IndyCar Series Championship in 2009.
Wins
Poles
Indianapolis 500

The Milwaukee Mile in 2008

Mid-Ohio Sportscar Course in 2008

Surfer's Paradise (non points) in 2008

St Petersburg in 2009

Kentucky Speedway in 2009

Chicagoland Speedway in 2009

Texas Motor Speedway in 2010

Sonoma Raceway in 2012

Sonoma Raceway in 2005

Watkins Glen International in 2008 & 2009

Edmonton in 2008

Chicagoland Speedway in 2008, 2009, & 2010

Milwaukee Mile in 2009

Mid-Ohio Sportscar Course in 2009

Kansas Speedway in 2010

Texas Motor Speedway in 2010

Long Beach in 2012

Indianapolis Motor Speedway in 2012

Two top 5's in 2007 & 2012

Three front row starts including the Pole in 2012.